Don't you just love the word "Baroque"? It's just got sooo much potential for rolling your r's! It's just a word that is.
Stethoscope is another one that just hissssses.
---
So the question remains what to do with all these courses.
They all seem to be on Wednesday night at the same time, so it's rather hard to do them all.
I have on my list
...


Book Keeping 6.30pm - 9pm Wed

Payroll with Sage 6pm Wed

Accounts with Sage 6pm Mon

Sage computerised Accounts 8.45 - 10.45 Sat

ECDL ?

I think it's more likely that I'm going for Book Keeping on Wednesday, Accounts with Sage on Monday and ECDL some where in the middle!.
The rest of the plan is to talk to my old boss and see if he has want of someone to work part time or if he knows of anyone who does and to work weekends and Friday evenings in Starbucks.
I prophesise a fun life for me!
On the plus side...
I have a new car! It's a Y reg (2001) Nissan Almera, Blue 1.6 engine with 5 doors and 5 gears. Aircon etc etc.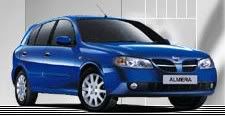 I don't get the car yet. I have to wait until next week, but yay! Or at least I hope I do 'cos my dad says the AA have to check it out first, but other than that 'tis mine!
Going on holiday 1st Sept to Spain for two weeks just me and my parents.
The spud boy is going away with his girlfriend and seeing as I neither have a girlfriend or a boyfriend to go on holiday with I get to go with my parents. Not that I really mind I just tried to get them to go alone, but they wouldn't listen. I mean having to spend 22 years taking kids on holiday you'd think they'd want to go alone, meh. I shall have paella and seafood all I want so I don't really mind. Oh and also trips to Barcelona! I can't wait. Universal Mediterranea is nearby too so I guess I might go there, but I'm not betting on it.
We're going out for a "university going" celebratory dinner for Graeme tomorrow night. Italian food! Mmmm!
He even got offered a place back on the course he originally applied for, which the university didn't think he'd get the grades for so offered him something slightly different, and then when he got his grades they said he could do the 1st one if he wanted. I guess he's not as daft as he looks (that'd be rather hard I think! lol! I do love him really though!)
I'm off for now seeing as it's 2.30am and I've been tired for the past couple of days. Doing nothing absolutely tires you out!
Current Mood:
lethargic
Current Music: One of the Ivor Novello songs off Gosford Park